gloCOM WEB provides your staff the ability to use a web browser to log in to their extension as if they were in the office. Users have access to the internal phone directory, phone dialer, conference and meeting services all from a web page
Although Bicom Systems has applications such as gloCOM Desktop and gloCOM GO, the idea for creating gloCOM Web is to increase mobility. It means that users can stay in touch with their colleagues all the time, no matter where they are and whether their devices are at their hands or not.
Unlike the other two gloCOM products, the gloCOM Web does not require download and installation. For using the gloCOM Web, everything that the user needs is a computer, a good Internet connection, and one of the browsers supported by the gloCOM Web
The list of the browsers supported by the gloCOM Web is as follows:
Google Chrome
Mozilla Firefox
Microsoft Edge
Opera
Safari
---
Central Phone Book – Sync'd with gloCOM GO
Central Phone Book is a centralized list of contacts managed by the PBXware administrator. It is shared across all gloCOM users, and synced together with the rest of the user contacts (Google, CRM etc.). Beside contacts managed by the administrator, a personal list of contacts can be managed as well. Personal phone books can be managed through Online Self Care.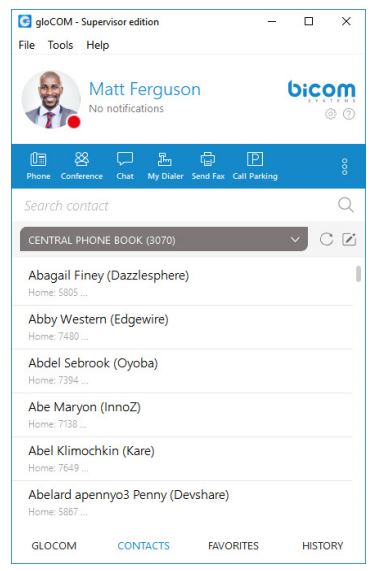 Unified Chat – Sync'd with gloCOM GO
gloCOM 6.0 brings a unified chat between Desktop and Mobile applications. Chat history is stored on the server and will keep synced between all your devices.
Chat features: chat history, group creation and adding of participants are now all integrated into the Chat
window.
• Chat groups: You will remain part of the groups you were added even after closing/login out of the application.
• Search bar: any word typed in will show all conversations and messages that match the entered word. You can
also search for messages in a specific conversation