TROUBLE-FREE INSTALLATION – DESIGNED AROUND YOU
A business phone solution equally capable in the office, on the road or at home. With gloCOM, gloCOM GO and gloCOM Web, our Desktop & Mobile Unified Communications applications are designed to provide business users with a set of features, tools and benefits transforming your companies communications system into a real powerhouse.
Powered by PBXware our scalable Next Generation Communication solution integrates seamlessly including Phone, SIP Trunking, Messaging, Meeting, Faxing, Collaboration and 3rd party service integrations such as TEAMS .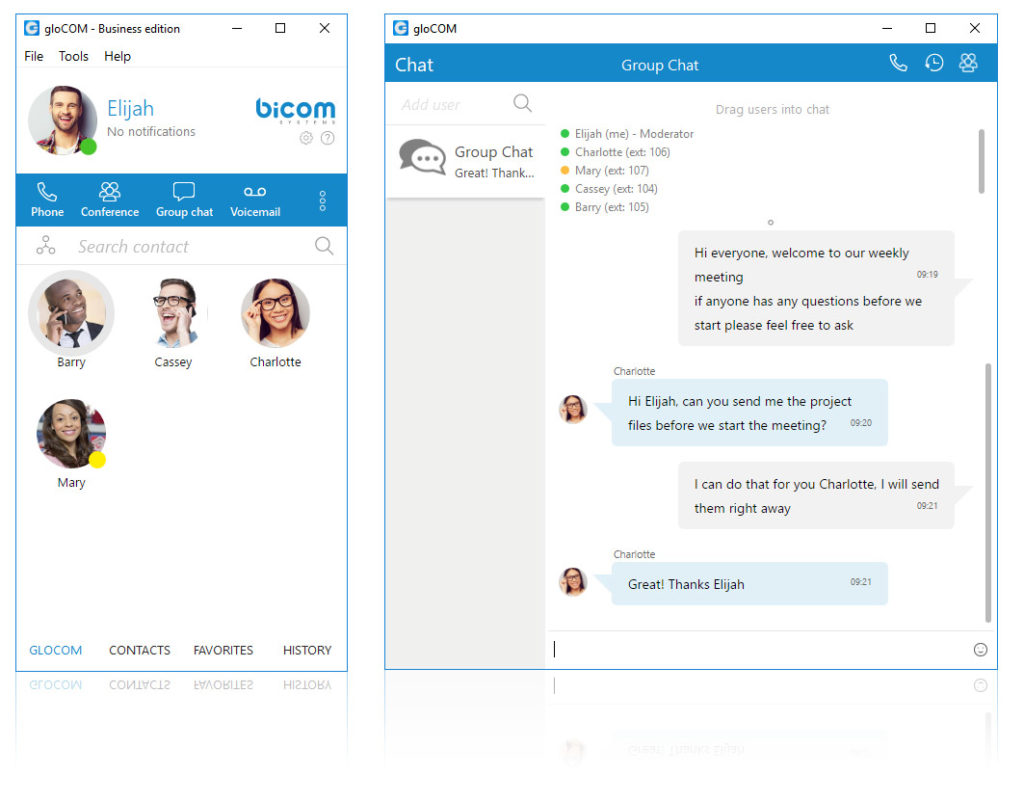 gloCOM Softphone, Web & Mobile options
gloCOM is a powerful desktop and mobile Unified Communications application specifically designed to take your business communications to a whole new level by tightly integrating with PBXware, our VoIP Telephony Platform. Its main purpose is to simplify and enhance your day-to-day communication and collaboration experience.
gloCOM makes it easy to connect everything—voice, video, chat, messaging, and more delivering effortless experiences for customers and employees. Soft devices include PC, MAC, Mobile and Web and all are fully integrated to your supported choice of hardware.
Visual voicemail allows your team members to respond to messages faster. Voicemail messages can be *transcribed and sent to email with an MP3 attachment so they can be quickly reviewed and replied to as needed.
gloCOM directory allows employees to view the presence of every team member at a glance or by department, who's available and who is not. They can then chat, transfer the call or drag the member into the current conversation.
gloCOM Integrates with your Microsoft Outlook or Google allowing click to dial or drag contacts into a conversation.
Whether you are returning to the office, going fully remote or moving to a hybrid working model, gloCOM supports all of these with a single product offering.
---
gloCOM Web
Unlike other gloCOM products, gloCOM Web does not require download and installation. All you need is a computer or smartphone and a good Internet connection. Simply login in to your domain with a supported browser to make and receive calls, start a conference and much more…
Call us for more information today @289-812-5111.
gloCOM meeting
gloCOM meeting is a module that allows any user to set up meetings without the hassle of switching applications. With access to all of your gloCOM contacts you can start collaborating with a single click.
gloCOM meeting allows you to meet with multiple users simultaneously, while offering: Video Conferencing – in grid and speaker view, Audio Conferencing, Screen Sharing – specific application or whole screen sharing, Remote Control when screen sharing, and Group chat.
You can also schedule meetings in advance and even set up recurring meetings that suit your team's needs.
Added support for public meetings. This is a meeting where everyone can join with the meeting number. There is no need to invite users. The public meeting checkbox is added in the meeting module window and in the schedule dialog.
---
With SMS, users can send and receive text messages from their desktop application gloCOM using the icon in their Desktop application module tab.
This new feature will also send status updates as an SMS message, for example if the text was delivered or read. Supervisors have access to the MDR (Message Detail Record) in PBXware. They can keep track of the incoming and outgoing messages all in one place! Having the MDR will make it easier for providers to bill directly.
---